The Indian Navy invites application from unmarried male and unmarried female candidates (who fulfil eligibility conditions as laid down by the Government of India) for enrolment as 200 posts of Agniveer (MR) for 01/2022 (Dec 22) batch. Interested candidates can apply for Indian Navy Agniveer (MR) Recruitment 2022 on or before 30 July 2022. Please go through this sarkari naukri post for Indian Navy Agniveer (MR) Vacancy details, educational qualification, eligibility criteria, Pay Scale, Application Fees and How to apply for Indian Navy Agniveer (MR) Recruitment 2022 via official website https://www.joinindiannavy.gov.in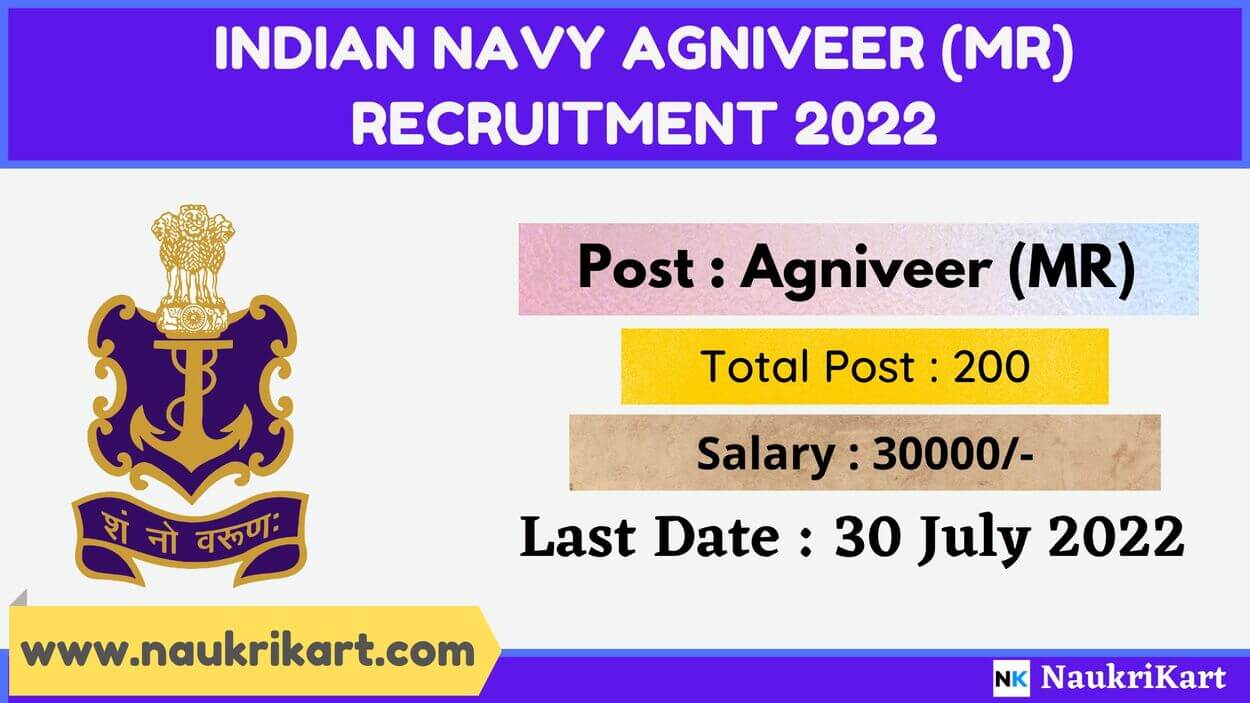 | | |
| --- | --- |
| Organization Name | Indian Navy |
| Post Name | Agniveer (MR) |
| Total Post | 200 |
| Last Date of Application | 30 July 2022 |
| Job Location | All India |
| Category | Sarkari Naukri |
| Advt. No. | davp 10701/ 11/ 0004/ 2223 |
| Official Website | https://www.joinindiannavy.gov.in |
| | |
| --- | --- |
| Events | Date |
| Starting Date of Online Application | 25 July 2022 |
| Last Date for Submission of Application Form | 30 July 2022 |
| | |
| --- | --- |
| Name of Post | Vacancy |
| Agniveer (MR) | 200 (including a maximum of 40 female only) |
Educational Qualification
Candidate must have passed Matriculation Examination from the Boards of School Education recognised by Ministry of Education, Govt. of India.
Marital Status
Only unmarried male and unmarried female candidates are eligible for enrolment as Agniveer in the Indian Navy. Candidates must undertake not to marry until completion of their ab-initio training. A candidate may be dismissed from service if he/she marries during ab-initio training or is found to be already married in-spite of giving an undertaking regarding
Name of Post
Age Limit
Agniveer (MR)
Candidates should be born between 01 Dec 1999- 31 May 2005 (Both dates inclusive)

(Please refer official notification for further age relaxation)
There is no Application Fees
Pay Scale
Agniveers will be paid a package of Rs.
30,000
per month with a fixed yearly increment. In addition, risk and hardship, dress and travel allowances will be paid.
Life Insurance Cover
Agniveer will be provided non-contributory Life Insurance Cover of
Rs. 48 lakh
for the duration of their engagement period.
Death Compensation
In addition to insurance cover of Rs. 48 Lakh, one time ex-gratia of

Rs.

44 Lakh

for death attributable to service, will be provided to the NOK.
Disability Compensation
One time ex-gratia of Rs. 44/ 25/ 15 Lakh based on % of disability (100%/ 75%/ 50%) shall be applicable to Agniveers.
Year
Customised
Package (Monthly)
In Hand
(70%)
Contribution to Agniveer
Corpus Fund (30%)
Contribution to
Corpus Fund by Gol
All figures in Rs (Monthly Contribution)
1st Year
30000
21000
9000
9000
2n° Year
33000
23100
9900
9900
3r° Year
36500
25550
10950
10950
4′h Year
40000
2000
12000
12000
Total in Agniveer Corpus Fund
5.02 Lakh
5.02 Lakh
Interested candidates can apply online for this sarkari naukri via official website https://www.joinindiannavy.gov.in/ from 15.07.2022 to 22.07.2022.
The Shortlisting of candidates would be based on aggregate percentage obtained in the qualifying examination (10th). Shortlisting for Agniveer (MR) – male & female will be carried out state wise in a ratio of four times the vacancies. The cut off marks may vary from state to state. The shortlisted candidates shall be issued call-up letter for written examination and PFT. Aadhar Card is mandatory for written examination/ PFT.

Merit List: Merit list will be prepared based on performance in written examination, subject to
qualification in Physical Fitness Test.


Merit List for Agniveer (MR) – male candidates

will be based on state-wise merit and the cut off marks for issue of call up letter for Recruitment Medical Examination at INS Chilka may vary from state to state.


Merit list for Agniveer (MR) – female candidates

will be based on all India merit. In case of candidates securing similar cut off marks in Written Examination, the candidate with higher percentage in the qualifying examination i.e 10th will be selected for Recruitment Medical Examination at INS Chilka.
Duration of Service: The Agniveers shall be enrolled in the Indian Navy under the Navy Act 1957, for a period of four years. Agniveers would form a distinct rank in the Indian Navy, different from any other existing ranks. Indian Navy is not obliged to retain the Agniveers beyond the engagement period of four years

Enrolment as Sailors (Regular Cadre): On completion of four years of service, based on organization's requirements and policies promulgated by the Indian Navy, Agniveers will be offered an opportunity to apply for permanent enrolment in the Indian Navy. These applications will be considered in centralized manner based on objective criteria including performance during their four year engagement period and up to 25% of each specific batch of Agniveers will be enrolled in Indian Navy for further re-engagement as sailor (regular cadre). Agniveers will not have any right to be selected for further enrolment in to the Indian Navy. Selection of the Agniveers for further enrolment, if any, shall be at the discretion of the Indian Navy.

Release at Own Request:. Agniveers will not be permitted to get released at own request prior to completion of engagement period. However, in most exceptional cases, personnel enrolled under this scheme may be released, if sanctioned by the competent authority.

Leave: 30 days leave per year shall be applicable for Agniveers. Additionally, sick leave would be applicable based on medical advice of competent medical authority
Qualifying in Physical Fitness Test (PFT) is mandatory for selection. Candidates undergoing PFT will do so at their own risk. PFT standard is as follows:-
| | | | | |
| --- | --- | --- | --- | --- |
| Gender | 1.6 Km run | Squats (Uthak Baithak) | Push-ups | Bent Knee Sit-ups |
| Male | 06 min 30 sec | 20 | 12 | – |
| Female | 08 min | 15 | | 10 |
Recruitment Medicals:
Recruitment Medical Examination of all selected candidates will be conducted at INS Chilka. Candidates who are found medically fit in Recruitment Medical Examination will be recruited. Candidates who are found medically unfit will be advised to appeal against its findings, if they so desire, at INHS Nivarini/ INHS Kalyani within a maximum period of 21 days. No further review/ appeal is permissible.
Medical Standards:
(a) Medical examination will be conducted by authorised military doctors as per medical standard prescribed in current regulations applicable on entry.
(b) Gender. Any candidate, if found to have predominant characteristics of the opposite gender as evidenced on external physical examination, will be rejected as UNFIT. Any candidate having
undergone gender reassignment surgery will be declared UNFIT.
(c) Pregnancy. Any female candidate, if found to be pregnant shall be disqualified and her
candidature rejected. A candidate should not have conceived at the time of reporting or till
conclusion of ab-initio training. If found to be pregnant later during training, the candidature shall be rejected.
(d) Minimum Height Standards. Minimum height standards for male is 157 cms and for female is
152 cms.
(e) The candidate must be in good physical and mental health, free from any disease/ disability
likely to interfere with the efficient performance of duties both ashore and afloat under peace as
well as war conditions.
Visual Standards
Without Glasses
With Glasses
Better Eye
Worse Eye
Better Eye
Worse Eye
6/6
6/9
6/6
6/6
When will notification for Indian Navy Agniveer (MR) Vacancy 2022 be released?
The notification for Indian Navy Agniveer (MR) Vacancy 2022 has been released on 25 July 2022
How many vacancies are there in the Indian Navy Agniveer (MR) Recruitment 2022?
There are 200 vacancies in the Indian Navy Agniveer (MR) Recruitment 2022.
What is the last date to apply for Indian Navy Agniveer (MR) Vacancy 2022?
The last date to apply for Indian Navy Agniveer (MR) Vacancy 2022 is 30 July 2022.
What is the official website of Indian Navy Agniveer (MR) Vacancy 2022?
https://www.joinindiannavy.gov.in