The Oil and Natural Gas Corporation Limited (ONGC), a "Maharatna" Public Sector Enterprise invites online application for 922 Non Executive various posts for respective ONGC work-centers /Sectors. Interested candidates can apply for ONGC Non Executive Recruitment 2022 on or before 28 May 2022. Please go through this sarkari naukri post for ONGC Non Executive Vacancy details, educational qualification, eligibility criteria, Pay Scale, Application Fees and How to apply for ONGC Non Executive Recruitment 2022 through online via official website https://www.ongcindia.com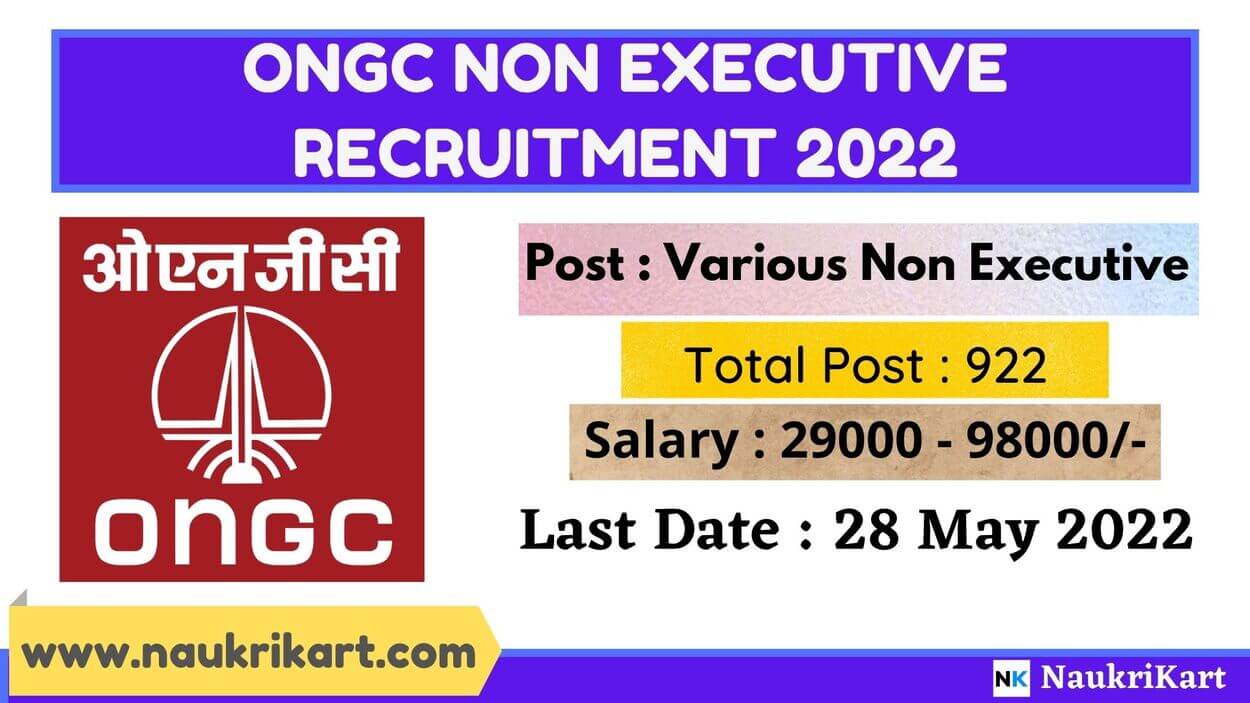 | | |
| --- | --- |
| Organization Name | Oil and Natural Gas Corporation Limited (ONGC) |
| Post Name | Non Executive |
| Total Post | 922 |
| Last Date of Application | 28 May 2022 |
| Job Location | All India |
| Category | Sarkari Naukri |
| Official Website | https://www.ongcindia.com |
| | |
| --- | --- |
| Events | Date |
| Starting Date of Online Application | 07 May 2022 |
| Last Date for Submission of Application Form | 28 May 2022 |
| | |
| --- | --- |
| Name of Post | No. of Vacancy |
| Non Executive Various Posts | 922 |
| | | | | | | |
| --- | --- | --- | --- | --- | --- | --- |
| Work- Centres | SC | ST | OBC | EWS | UR | No. Of Vacancy |
| Dehradun (Uttarakhand) | 2 | 0 | 1 | 0 | 17 | 20 |
| Delhi | 0 | 0 | 2 | 0 | 8 | 10 |
| Mumbai (Maharashtra) | 23 | 18 | 59 | 15 | 148 | 263 |
| Goa | 0 | 0 | 0 | 0 | 4 | 4 |
| Gujarat | 14 | 44 | 71 | 19 | 170 | 318 |
| Jodhpur (Rajasthan) | 1 | 0 | 0 | 0 | 5 | 6 |
| Chennai & Karaikal (Tamilnadu & Puducherry) | 5 | 0 | 8 | 1 | 24 | 38 |
| Assam | 8 | 5 | 35 | 8 | 108 | 164 |
| Agartala (Tripura) | 8 | 19 | 0 | 4 | 35 | 66 |
| Kolkata (West Bengal) | 0 | 0 | 0 | 0 | 10 | 10 |
| Bokaro (Jharkhand) | 0 | 3 | 0 | 0 | 20 | 23 |
| Total | 61 | 89 | 176 | 47 | 549 | 922 |
Level
Posts
Essential Qualification
F1
Junior Engineering Assistant( Civil )
3 years Diploma in Civil Engineering
F1
Junior Engineering Assistant (Electronics)
3 years Diploma in Electronics/ Telecom/ E&T Engineering Or M.Sc. in Physics with Electronics
F1
Junior Engineering Assistant (Electrical)
3 years Diploma in Electrical Engineering. Should have Valid Certificate of Competency as Electrical Supervisor
F1
Junior Engineering Assistant (Instrumentation)
3 years Diploma in Instrumentation Engineering
F1
Junior Engineering Assistant (Mechanical)
3 years Diploma in Mechanical Engineering
F1
Junior Engineering Assistant (Boiler)
3 years Diploma in Mechanical Engineering with 1st Class Boiler Attendant Certificate
F1
Junior Engineering Assistant (Production)
3 years Diploma in Mechanical/ Chemical/ Petroleum Engineering
F1
Junior Engineering Assistant (Cementing)
3 years Diploma in Mechanical/ Petroleum Engineering
F1
Junior Engineering Assistant (Drilling)
3 years Diploma in Mechanical/ Petroleum Engineering. Physical Standards as specified.
F1
Junior Marine Radio Assistant
A. High School or Class X equivalent Board Examinations with
i. Second class Certificate with Proficiency/ Competency in Marine Radio Operation recognized by Govt. of India with Global Maritime Distress and Safety System (GMDSS) certification issued by the Ministry of Communication (MOC) and one year experience in line. OR
ii. Radio Telephone Operator's Certificate of Proficiency in Maritime Mobile Service with Global Maritime Distress and Safety System (GMDSS) certification issued by the Ministry of Communication (MOC) and one year experience in line.
OR
B. Diploma in Electronics/ Telecom with Global Maritime Distress and Safety Systems (GMDSS) certification issued by the Ministry of Communication (MOC), Govt. of India with one year experience in line.
F1
Junior Dealing Assistant (Transport)
3 years Diploma in Auto/Mechanical Engineering/post Graduate Diploma in Business Management/ Administration or post Graduate. Valid Heavy vehicle Driving license is essential.
F1
Junior Scientific Assistant Chemistry)
Post Graduate Degree in Chemistry
F1
Junior Scientific Assistant (Geology)
Post Graduate Degree in Geology
F1
Junior Scientific Assistant (Geophysics – Surface)
Post Graduate Degree in Geophysics/ Physics. One Of the subjects in B.Sc. should be chemistry.
F1
Junior Engineering Assistant (Production — Drilling)
3 years Diploma in Mechanical / Petroleum Engineering. Physical Standards as specified
F1
Junior Dealing Assistant (Personnel & Administration)
Post Graduate Degree in Business Administration / Personnel Management IR / Labour Welfare or Graduate degree with 2 years diploma in Personnel & Administration
F1
Junior Dealing Assistant (MM)
3 years Diploma in Material Management/ Inventory/ Stock Control Recognized by the State Board of Technical Education/One Year PG Di lama in Material Management.
A1
Junior Technical Assistant (Surveying)
High School or Class X Equivalent Board Examinations with Science and Trade certificate in surveying
A1
Junior Motor Vehicle Driver (Winch Operations)
High School or Class X Equivalent Board Examinations with valid driving license for Heavy Vehicle and 3 years driving experience of Heavy Vehicles.
A1
Junior Technician (Fitting)
High School or Class X Equivalent Board Examinations with Science and Trade certificate in Fitting
A1
Junior Technician (Welding)
High School or Class X Equivalent Board Examinations with Science and Trade Certificate in Welding.
A1
Junior Technician (Diesel)
High School or Class X Equivalent Board Examination with Science and Trade Certificate in Diesel.
A1
Junior Technician (Electrical )
High School or Class X Equivalent Board Examinations with Science and Trade Certificate in Electrician Trade. Should have Valid Certificate Of Competency as Electrical supervisor
A1
Junior Technician (Production)
High School or Class X Equivalent Board Examination with Science and Trade Certificate in Fitting or Mechanic Trades. The Trade in respect of Mechanic are Diesel/ Instrumentation/ Turner/ Machining/ Tractor/ Motor vehicle/ Welding} Blacksmithy/ Boiler Attendant/ Machinist Grinder Trades.
A1
Junior Technician (Cementing)
High School or Class X Equivalent Board Examination with Science and Trade Certificate in Auto/ Fitting or Mechanic Trades The Trade in respect Of Mechanic are Diesel/ Instrumentation/ Turner/ Machining/ Tractor/ Motor vehicle/ Welding/ Blacksmithy/ Boiler Attendant/ Machinist Grinder Trades. Should have Valid Heavy Vehicle Driving License.
A1
Junior Technician (Machining)
High School or Class X Equivalent Board Examination with Science and Trade Certificate in Machining.
A1
Junior Assistant Operator (Heavy Equipment)
High School or Class X Equivalent Board Examinations with Driving License for Heavy Vehicle. 3 years Experience Of Heavy Vehicles/ Crane operations. (And) Valid Grade-I certificate as per API-RP 2D or OISD RP-205.
A1
Junior Slinger Cum Rigger
High School or Class X Equivalent Board Examination with valid Driving License for Heavy Vehicle and 3 years experience in loading and unloading.
A1
Junior Assistant (Accounts)
B.Com. with proficiency in typing 30 w.p.m. and Certificate/Diploma of minimum duration Of six months in Computer Applications in the Office environment
A1
Junior Assistant (Materials Management)
B.Sc. with Physics or Maths as one of the subjects with proficiency in typing 30 w.p.m. and Certificate/Diploma of minimum duration of six months in Computer applications in the Office environment
A1
Junior Assistant (Official Language)
Graduate in Hindi with English as one of the subjects. Typing speed 30 w.p.m. in hindi and Certificate / Diploma Of minimum duration Of six months Computer •cation in the office environment
A1
Junior Assistant (Personnel & Administration)
Graduate with Typing speed 30 w.p.m. and Certificate/ Diploma of minimum duration of six months in Computer Applications in the Office environment
A1
Junior Fire Supervisor
Intermediate with 6 months' experience in fire services. Valid Driving License for Heavy Vehicles essential. Driving Test on Fire Tender/ Heavy Vehicle applicable. Physical standards as specified and Physical Efficiency.
A1
Junior Technical Assistant
(Chemistry)
B.Sc. with Chemistry as main subject
A1
Junior Technical Assistant (Geology)
B.Sc. with Geology as main subject
A1
Junior Technician (Boiler)
High school or Class X Equivalent Board Examination with Science and Il class Boiler Attendants (oil / Gas fired ) certificate
A1
Junior Technician (Production – Drilling)
High School or Class X Equivalent Board Examinations with Science and Trade Certificate in Fitting or Mechanic Trades. The Trade in respect Of Mechanic are Diesel/ Instrumentation/ Turner/ Machining/ Tractor/ Motor vehicle/ Welding/ Blacksmithy/ Boiler Attendant/ Machinist Grinder Trades. Physical Standards as specified
W1
Junior Fireman
High School or Class X Equivalent Board Examinations with Fireman's training Of three months duration. Valid Driving License for Heavy Vehicles essential. Driving Test on Fire Tender/ Heavy Vehicle applicable. Physical standards as specified and Physical Efficiency
Name of Post
Age Limit
For F1 & A1 Level Posts (Other than Drilling/ Cementing/ Production- Drilling)

18 – 30 yrs

For F1 & A1 Level (Posts of Drilling/ Cementing/ Production- Drilling)
18 – 28 yrs
For W1 Level Posts
18 – 27 yrs
For Junior Assistant Operator (Heavy Equipment)
18 – 35 yrs
Age Calculate on 28.05.2022

(Please refer official notification for further age relaxation)
| | |
| --- | --- |
| Category | Application Fee |
| General, EWS and OBC | 300/- |
| Other Candidates | No Fee |
Post Level
Basic Pay Scale
F-1 Level
Rs. 29,000-Rs. 98,000/-
A-1 Level
Rs. 26,600-Rs. 87,000/-
W-1 Level
Rs. 24,000-Rs. 57,500/-
Remarks: In addition to this, annual increment @3%, allowances @35% of basic Pay under Cafeteria Approach, Dearness Allowance, House Rent Allowance, Conveyance Maintenance, Substantial Performance Related Pay (PRP), Medical facility for Self & dependents, Self Contributory post Retirement Benefit Scheme (PRBS), Composite Social Security Scheme (CSSS), Gratuity, Superannuation Benefits, Contributory Provident Fund (CPF), etc. are provided as per the Company's rules from time to time.
Interested and Eligible Candidates may apply for this sarkari naukri Online through the ONGC Official Website https://www.ongcindia.com/ from 07.05.2022 to 28.05.2022.
Selection will be based on Written Test & Trade Test
When will notification for ONGC Non Executive Vacancy 2022 be released?

The notification for ONGC Non Executive Vacancy 2022 has been released on 07 May 2022.

How many vacancies are there in the ONGC Non Executive Recruitment 2022?

There are 922 vacancies in the ONGC Non Executive Recruitment 2022

What is the last date to apply for ONGC Non Executive Vacancy 2022?

The last date to apply for ONGC Non Executive Vacancy 2022 is 28 May 2022.

What is the official website of ONGC Non Executive Vacancy 2022?

https://www.ongcindia.com