The State Bank of India invites applications from eligible Indian Citizens for appointment as Junior Associate (Customer Support & Sales) in clerical cadre in SBI. Interested candidates can apply for SBI Junior Associate Recruitment 2022 on or before 27 September 2022. Please go through this sarkari naukri post for SBI Junior Associate Vacancy details, educational qualification, eligibility criteria, Pay Scale, Application Fees, and How to apply for SBI Junior Associate Recruitment 2022 via the official website https://www.sbi.co.in/careers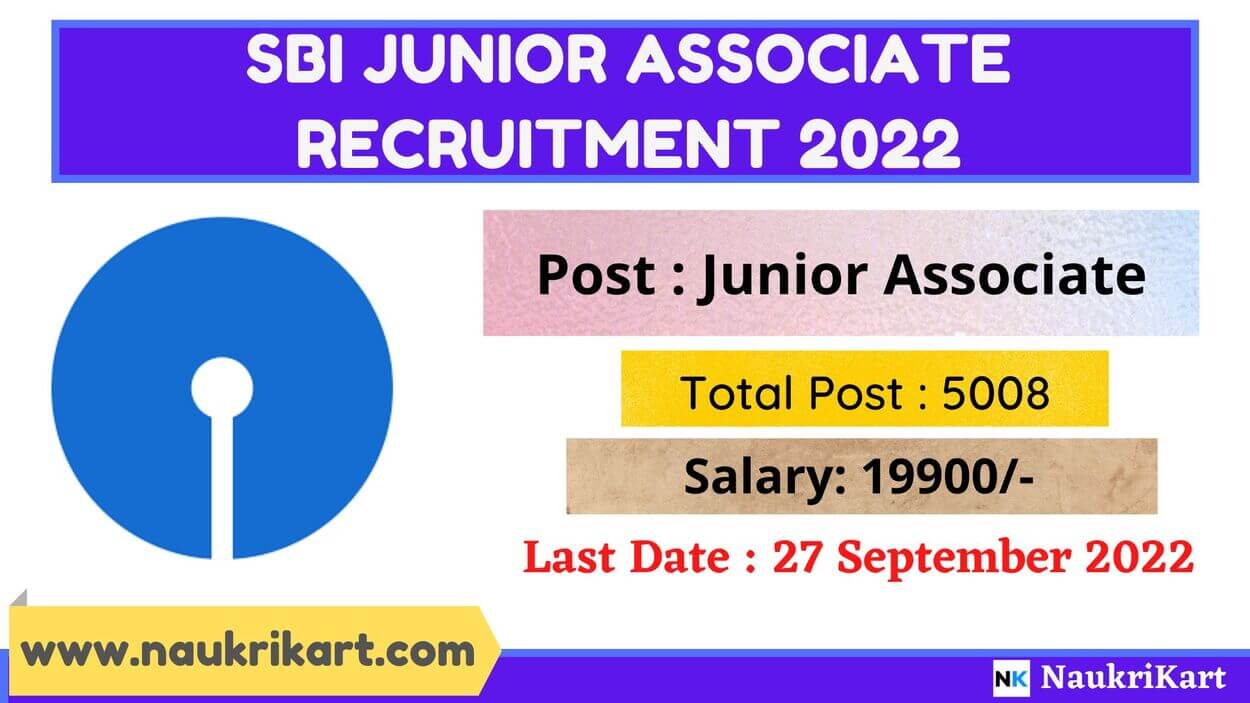 | | |
| --- | --- |
| Organization Name | State Bank of India |
| Post Name | Junior Associate |
| Total Post | 5008 |
| Starting Date of Application | 07 September 2022 |
| Last Date of Application | 27 September 2022 |
| Job Location | All India |
| Category | Sarkari Naukri |
| Advt. No. | CRPD/CR/2022-23/15 |
| Official Website | https://www.sbi.co.in/careers |
| | |
| --- | --- |
| Events | Date |
| Starting Date of Online Application | 07 September 2022 |
| Last Date for Submission of Application Form | 27 September 2022 |
Circle
State/ UT
Language
SC
ST
OBC
EWS
GEN
Total
Ahmedabad
Gujarat
Gujarati
25
53
95
35
145
353
Daman & Diu
Gujarati
0
0
1
0
3
4
Bangalore
Karnataka
Kannada
51
22
85
31
127
316
Bhopal
Madhya Pradesh
Hindi
58
78
58
38
157
389
Chhattisgarh
Hindi
11
29
6
9
37
92
Bengal
West Bengal
Bengali/ Nepali
78
17
75
34
136
340
A&N Islands
Hindi/ English
0
1
3
1
5
10
Sikkim
Nepali/ English
1
5
6
2
12
26
Bhubaneswar
Odisha
Odia
27
37
20
17
69
170
Chandigarh
Jammu & Kashmir
Urdu/ Hindi
3
4
9
3
16
35
Haryana
Hindi/ Punjabi
1
0
1
0
3
5
Himachal Pradesh
Hindi
14
2
11
5
23
55
Punjab
Punjabi/ Hindi
38
0
27
13
52
130
Chennai
Tamil Nadu
Tamil
67
4
96
35
153
355
Pondicherry
Tamil
1
0
2
0
4
7
Delhi
Delhi
Hindi
5
2
9
3
13
32
Uttarakhand
Hindi
22
4
16
12
66
120
Hyderabad
Telangana
Telugu/ Urdu
36
16
60
22
91
225
Jaipur
Rajasthan
Hindi
48
37
57
28
114
284
Kerala
Kerala
Malayalam
27
3
73
27
140
270
Lakshadweep
Malayalam
0
1
0
0
2
3
Lucknow/
Delhi
Uttar Pradesh
Hindi/ Urdu
133
7
170
63
258
631
Maharashtra/
Mumbai
Metro
Maharashtra
Marathi
75
67
201
74
330
747
Maharashtra
Goa
Konkani
1
6
9
5
29
50
North Eastern
Assam
Assamese/ Bengali/ Bodo
18
31
70
25
114
258
Arunachal Pradesh
English
0
7
0
1
7
15
Manipur #
Manipuri / English
1
9
4
2
12
28
Meghalaya
English/ Garo/ Khasi
0
10
1
2
10
23
Mizoram
Mizo
0
5
0
1
4
10
Nagaland
English
0
7
0
1
7
15
Tripura
Bengali/ Kokborok
2
3
0
1
4
10
TOTAL
743
467
1165
490
2143
5008
Educational Qualification
Graduation in any discipline from a recognised University or any equivalent qualification recognised as such by Central Government. Candidates having integrated dual degree (IDD) certificate should ensure that the date of passing the IDD is on or before 30.11.2022.
Those who are in the final year/ semester of their graduation may also apply provisionally subject to the condition that, if provisionally selected, they will have to produce proof of having passed the graduation examination on or before 30.11.2022.
Name of Post
Maximum Age
Junior Associate
Not below 20 years and not above 28 years
Age Calculate on 01.08.2022 (Please refer official notification for further age relaxation)
| | |
| --- | --- |
| Category | Application Fees |
| SC/ ST/ PwBD/ ESM/DESM | Nil |
| General/ OBC/ EWS | 750/- |
| | |
| --- | --- |
| Name of Post | Pay Scale |
| Junior Associate | The starting Basic Pay is Rs.19900/- (Rs.17900/- plus two advance increments admissible to graduates) |
The selection process will consist of on-line test (Preliminary & Main exam) and test of specified opted local language.
The marks obtained in the Preliminary Examination (Phase-I) will not be added for the selection and only the aggregate marks obtained in Main Examination (Phase-II) will be considered for preparation of the final merit list. Provisional selection will be made on the basis of candidate's performance in the test (Main Examination).
Phase-I: Preliminary Examination:
Online Preliminary Exam consisting of Objective Tests for 100 marks will be conducted online. This test would be of 1-hour duration consisting of 3 Sections as follows:
| | | | | | |
| --- | --- | --- | --- | --- | --- |
| Sl. | Name of Test | Medium of Exam | No. of Questions | Max. Marks | Duration |
| 1. | English language | English | 30 | 30 | 20 min. |
| 2. | Numerical Ability | * | 35 | 35 | 20 min. |
| 3. | Reasoning Ability | * | 35 | 35 | 20 min. |
| | Total | * | 100 | 100 | 1 Hour |
There will be negative marks for wrong answers in the Objective tests. 1/4th of mark assigned for question will be deducted for each wrong answer
Phase – II: Main Examination:
Structure of Online Main Exam would be as follows:
| | | | | | |
| --- | --- | --- | --- | --- | --- |
| Sl. | Name of Test | Medium of Exam | No. of Questions | Max. Marks | Duration |
| 1. | General/ Financial Awareness | * | 50 | 50 | 35 min. |
| 2. | General English | English | 40 | 40 | 35 min. |
| 3. | Quantitative Aptitude | * | 50 | 50 | 45 min. |
| 4. | Reasoning Ability & Computer Aptitude | * | 50 | 60 | 45 min. |
| | Total | | 190 | 200 | 2 Hr. 40 min. |
There will be negative marks for wrong answers in the Objective tests. 1/4th of mark assigned for question will be deducted for each wrong answer
When will notification for SBI Junior Associate Vacancy 2022 be released?

The notification for SBI Junior Associate Vacancy 2022 has been released on 07 September 2022.

How many vacancies are there in the SBI Junior Associate Recruitment 2022?

There are 5008 vacancies in the SBI Junior Associate Recruitment 2022.

What is the last date to apply for SBI Junior Associate Vacancy 2022?

The last date to apply for SBI Junior Associate Vacancy 2022 is 27 September 2022.

What is the official website of SBI Junior Associate Vacancy 2022?

https://www.sbi.co.in/careers/