India Post, invites online application from the eligible candidates for filling up 38296 posts of Gramin Dak Sevak (GDS) as BPM/ABPM/ Dak Sevak. Interested candidates can apply for India Post GDS Recruitment 2022 on or before 05 June 2022. Please go through this sarkari naukri post for India Post GDS Vacancy details, educational qualification, eligibility criteria, Pay Scale, Application Fees and How to apply for India Post GDS Recruitment 2022 via official website https://indiapostgdsonline.gov.in Go to important Links section to check supplimentary List III of shortlisted candidates of all circles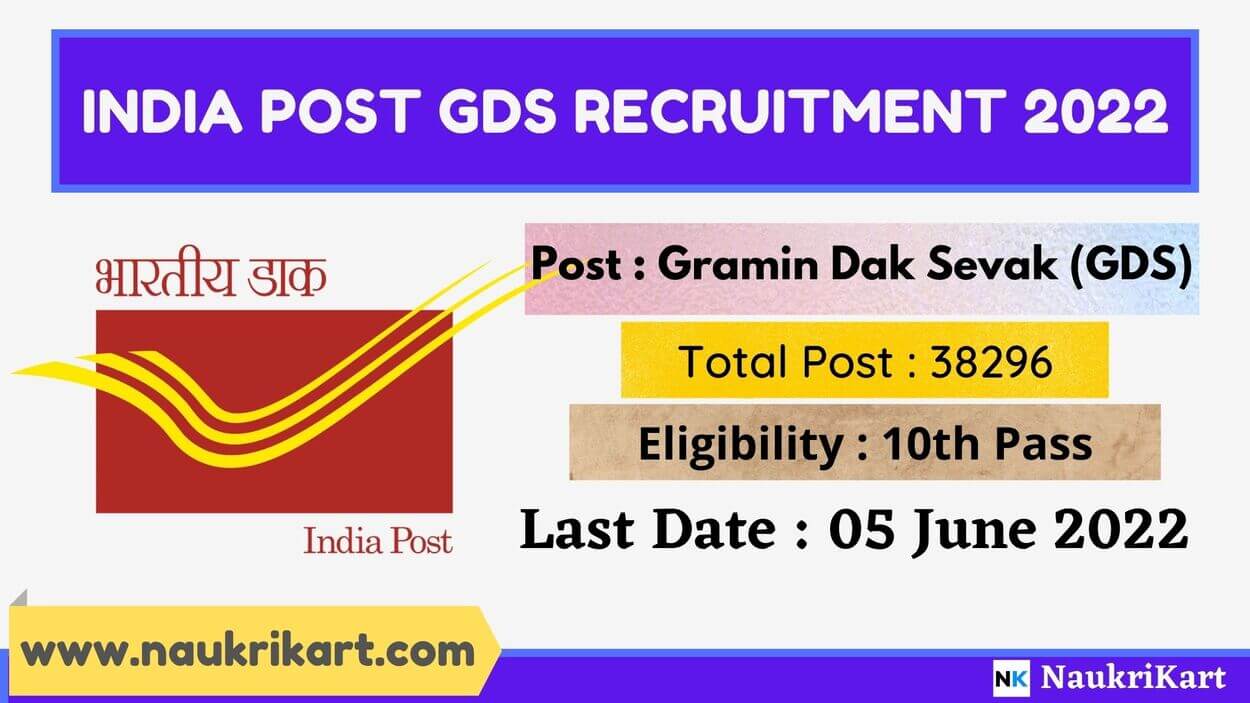 | | |
| --- | --- |
| Organization Name | India Post |
| Post Name | Gramin Dak Sevak (GDS) |
| Total Post | 38296 |
| Last Date of Application | 05 June 2022 |
| Job Location | All India |
| Category | Sarkari Naukri |
| Official Website | https://indiapostgdsonline.gov.in |
| | |
| --- | --- |
| Events | Date |
| Starting Date of Online Application | 02 May 2022 |
| Last Date for Submission of Application Form | 05 June 2022 |
| | |
| --- | --- |
| Name of Post | Total Vacancy |
| Gramin Dak Sevak (GDS) | 38296 |
No.
Circle
Language Name
UR
OBC
EWS
SC
ST
PWD-A
PWD-B
PWD-C
PWD-DE
Total
1
Andhra Pradesh
Telugu
755
333
224
220
123
6
25
27
3
1716
2
Assam
Assamese/Asomiya
413
257
95
83
81
10
2
5
5
951
3
Assam
Bengali/Bangla
63
35
12
8
22
0
1
2
0
143
4
Assam
Bodo
8
5
0
1
32
0
1
0
0
47
5
Assam
Hindi/English
1
0
0
0
1
0
0
0
0
2
6
Bihar
Hindi
464
247
83
144
31
5
2
10
4
990
7
Chattisgarh
Hindi
477
45
133
176
373
14
11
13
11
1253
8
Delhi
Hindi
25
10
4
10
8
2
1
0
0
60
9
Gujarat
Gujarati
802
466
234
78
271
10
18
19
3
1901
10
Haryana
Hindi
404
244
80
164
0
8
9
7
5
921
11
Himachal Pradesh
Hindi
424
191
99
229
47
4
5
7
1
1007
12
Jammukashmir
Hindi/Urdu
115
65
26
22
27
6
3
1
0
265
13
Jharkhand
Hindi
273
68
41
68
149
7
2
2
0
610
14
Karnataka
Kannada
1017
594
269
323
153
12
18
19
5
2410
15
Kerala
Malayalam
1220
462
246
179
32
7
30
26
1
2203
16
Madhya Pradesh
Hindi
1589
457
442
638
803
37
41
42
25
4074
17
Maharashtra
Konkani/Marathi
24
8
4
0
6
0
0
0
0
42
18
Maharashtra
Marathi
1300
746
298
287
264
12
20
47
10
2984
19
North Eastern
Bengali
86
8
4
32
36
0
0
0
0
166
20
North Eastern
Hindi/English
117
6
15
0
87
2
3
2
4
236
21
North Eastern
Manipuri/English
13
8
0
1
34
0
0
0
0
56
22
North Eastern
Mizo
34
5
9
0
41
4
0
0
0
93
23
Odisha
Oriya
1278
314
299
459
638
25
19
28
6
3066
24
Punjab
Hindi/English
10
6
1
3
0
1
0
0
0
21
25
Punjab
Punjabi
414
188
63
264
0
0
0
19
0
948
26
Rajasthan
Hindi
1127
231
289
371
305
20
20
19
8
2390
27
Tamilnadu
Tamil
2014
1018
398
719
30
25
46
49
11
4310
28
Telangana
Telugu
509
266
123
200
88
6
10
19
5
1226
29
Uttar Pradesh
Hindi
1189
632
191
421
52
16
12
4
2
2519
30
Uttarakhand
Hindi
195
42
39
55
12
2
3
4
1
353
31
West Bengal
Bengali
781
386
135
411
88
13
23
11
2
1850
32
West Bengal
Hindi/English
28
12
4
0
3
0
0
1
0
48
33
West Bengal
Nepali
10
8
1
3
3
0
1
0
0
26
34
West Bengal
Nepali/Bengali
4
3
3
3
0
0
0
0
0
13
35
West Bengal
Nepali/English
15
3
3
1
3
1
0
0
0
26
Total
17198
7369
3867
5573
3843
255
326
383
112
38926
Educational Qualification
Secondary School Examination pass certificate of 10th standard having passed in Mathematics and English (having been studied as compulsory or elective subjects) conducted by any recognized Board of School Education by the Government of India/ State Governments/ Union Territories in India shall be a mandatory educational qualification for all approved categories of GDS.
The candidate should have studied the local language at least up to 10th standard [as compulsory or elective subjects].
Name of Post
Age Limit
Gramin Dak Sevak (GDS)
18 -40 yrs
Age Calculate on 05.06.2022

(Please refer official notification for further age relaxation)
| | |
| --- | --- |
| Category | Application Fee |
| Female/ SC/ST/ PwD/ Transwomen candidates | Nil |
| Other candidates | 100/- |
| | |
| --- | --- |
| Category | Pay Scale (Minimum TRCA for 4 Hours/ Level 1 in TRCA Slab) |
| BPM | Rs.12,000/- |
| ABPM/ DakSevak | Rs.10,000/- |
Eligible and willing candidates may apply for this sarkari naukri through the website https://indiapostgdsonline.gov.in from 02.05.2022 to 05.06.2022
Selection will be made as per the system generated merit list based on the merit position of the candidate and the preference of posts submitted. This shall be subject to fulfilling of all eligibility criteria as per the rules.
When will notification for India Post GDS Vacancy 2022 be released?

The notification for India Post GDS Vacancy 2022 has been released on 02 May 2022.

How many vacancies are there in the India Post GDS Recruitment 2022?

There are total 38296 Vacancies in India Post GDS Recruitment

What is the last date to apply for India Post GDS Vacancy 2022?

The last date to apply for India Post GDS Vacancy 2022 is 05 June 2022.

What is the official website of India Post GDS Vacancy 2022? 

https://indiapostgdsonline.gov.in